The May numbers for the Greater Toronto Area are out!

With yet another lockdown in the province of Ontario due to COVID-19, sales in May 2021 have dropped short of this year's March high of 15,646 sales. Despite the minor drop in sales in the prior two months, market conditions have remained competitive in May propelling the average selling price to all time high. Realtors of the Greater Toronto Area recorded 11,951 sales, more than doubling the previous years' total.

With new listings trending slightly lower than sale numbers, this implies that people who are actively searching to buy a property are still up against a lot of competition from other purchasers, putting a lot of upward pressure on selling prices. This would explain why there has been a high demand for ownership housing, including both single-family homes and condominium apartments.

The real estate market has remained strong throughout the year. Burlington and Oakville real estate communities have been thriving significantly with sales prices reaching new highs compared to May of last year. Let's take a closer look below.

YEAR-OVER-YEAR DATA SHOWS SUBSTANTIAL GROWTH IN
BURLINGTON AND OAKVILLE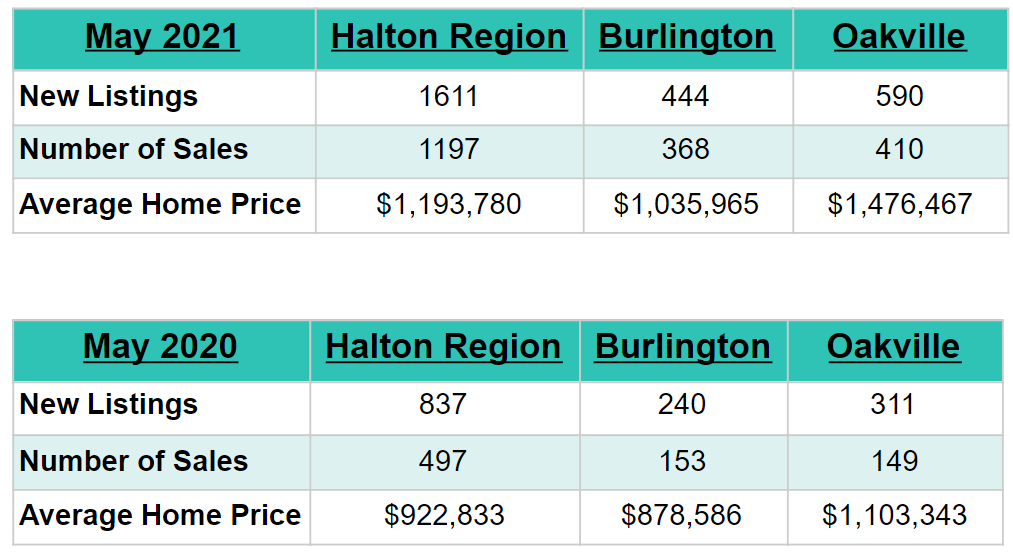 According to the most recent Halton Region MLS data, the average property price is $1,193,780, with a 48% increase for new listings.
If you've been considering selling your property in Burlington or Oakville, now is the best time to do so since market circumstances are continuously growing and there are many benefits when selling your home in the summertime.
COMPARISON OF MARKET STATS FOR MAY 2021 AND 2020:
OAKVILLE AND BURLINGTON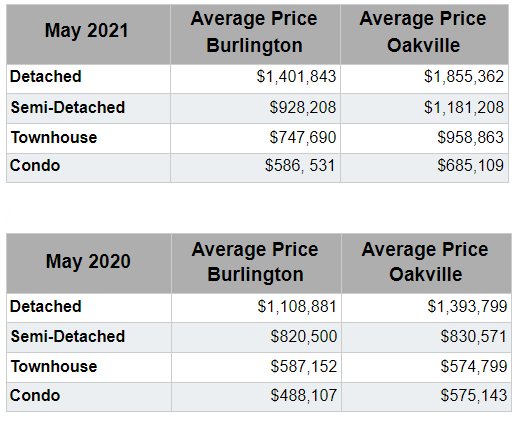 When we look at the specific property types, we can observe that the average prices in Burlington and Oakville increased across the board. The Halton Region alone had a 58% increase in sales year-over- year for all home types, while the average home price increased by 23%.
With detached homes being the trendiest type of property, the average price in Halton increased by 21% from May of last year. In Burlington and Oakville alone, detached and semi-detached homes, which are quite popular in these two cities, increased by 17% and 27%.
A 60% sales increase for Townhouses in Oakville
Oakville has seen strong growth year after year, but what might be surprising is that Oakville townhouse prices are up by 40% from last year at this time. Unlike in some areas, such as the city of Toronto, where townhouse prices only increased by 11%. This suggests that the demand for townhouses in Oakville is rapidly increasing.
Despite the ongoing pandemic, Oakville and Burlington remain popular amongst some of the cities in the GTA, where housing demand continues to grow, as evidenced by rising home prices.
Check out available listings in
Burlington
and
Oakville
today!
If you have any questions about the GTA or Halton Region market, inquiring as a home buyer or seller, make sure to
contact The Martin Group
. We will be happy to assist with any of your needs.